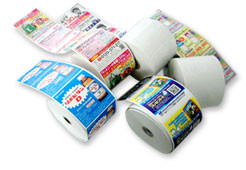 Advertisers are always looking for the most effective ways to promote their products or services. This search involves several key factors:
The advertising medium's ability to reach targeted customers
Its ability to grab a customer's attention
Its ability to reach a large number of prospective customers
Whether or not it will offer a favorable ROI
Retail and financial institutions typically rely on magazines, outdoor billboards, television, radio and the internet to deliver their ad messages. Though these platforms have the capacity to reach a wide audience, they can be quite expensive and measuring their ROI is often difficult.
There are other, more affordable advertising platforms such as thermal paper receipts, which are capable of delivering effective results for retailers and financial institutions, and offer the ability to measure ROI.
Advantages of Advertising on Thermal Paper Receipts

Issuing receipts after a purchase is a normal transaction. So customers shopping in retails stores or conducting business at a bank or credit union often expect to receive a paper receipt.
Advertising on your thermal paper receipt has the following advantages:
It is a targeted medium, as customers are already aware of your company and would be receptive to purchasing your products or services
Most customers will confirm if the receipt is accurate, giving them an opportunity to read your promotional message
Many customers will hold onto their receipts for future reference, extending the shelf life of your ad message and an opportunity for repetitive viewing
The receipt can be part of a redemption process, allowing you to measure actions taken on the ad campaign and its subsequent ROI
Efficiency of Advertising on Thermal Paper Receipts

Thermal paper is a sunk cost for most retailers and financial institutions. And custom printing an ad message on the back of the receipt comes at a nominal charge.
The incremental cost required to print a customized ad on the back of stock paper runs for as low as $6.25 per roll on average. Each roll of stock paper is capable of delivering approximately 6,250 ad impressions. This translates to a cost of $1 CPM (Cost-per-thousand impressions), standard unit of measurement in media.
According to rates below, $1 CPM is considered lower compared to what other conventional media advertising platforms would charge.
CPM Advertising Comparison
Network TV: $28
Print: $17
Cable: $12
Radio: $10
Out-Of-Home: $5
Online: $2
Custom ATM receipts: $1
Not only is receipt advertising efficient, it is effective as well. Thermal paper manufacturers and advertisers have achieved up to 10% response rate for their ad campaigns, exceeding the 1-2 percentage of direct mail campaigns with little to no costs incurred.
Summary
Thermal paper receipt advertising proves to be efficient and cost effective way of delivering ad messages to a specified audience. Whether advertising on ATM paper or POS paper, feel free to contact us to discuss your needs.