What is
Mobile Printing Paper?
Mobile printing is the ability to print from mobile devices such as smartphones and tablets. It can be done wirelessly, using a local network, or even remotely via email. The most common type of paper for mobile printing is e-ticket thermal paper, which has a thin layer of heat-sensitive coating that darkens when exposed to heat. This process requires either an e-ticket machine roll or smaller rolls for handheld machines and printers.
E-ticket thermal paper rolls have specific standard printer paper dimensions that must match the size of the machine and the desired document size to ensure efficient operation. Mobile printing also includes inkjet printers, though these are typically more expensive than either e-ticket thermal paper rolls or handheld machines. Inkjet paper comes in various sizes and types, such as glossy.
What Are Different Features and Qualities to Look for in

Mobile Printing Paper?
While selecting a mobile printer paper, it is important to consider the quality of the product. High-quality mobile printer paper rolls are specially designed and manufactured to provide maximum efficiency. Here are some key factors to look for when choosing mobile printer paper: –
1) Print Quality
Print quality is the major factor that you must consider when selecting a mobile printer paper roll. You must select the product that will produce clean and sharp images or text. Therefore, you should look for mobile printer paper made with high-quality material that provides a crisp, clear image.
2) Durability
A good-quality mobile thermal paper roll should be durable enough to withstand frequent usage without breaking down, which can also damage the printer. In addition, the quality of the material used in manufacturing the roll should be strong enough to last through millions of transactions without tearing.
3) Environmental friendliness
Quality mobile paper rolls should be environmentally friendly. They should be non-toxic and not release harmful substances into the atmosphere. Therefore, look for products certified as eco-friendly or BPA-Free so you can rest assured that your choice of product is playing its part in helping protect our environment.
 4) Price
Another important factor you must consider while purchasing a mobile printer paper roll is Price. You need to ensure that you get the best value for your money by finding a reasonably priced product that also offers the quality you need rather than going for mobile cheap thermal paper rolls which results in low quality prints.
What is a
Mobile Printer Paper roll

used for?

Mobile printer paper rolls are used to print receipts and other information. The paper is specially designed to work with thermal printer technology. It usually comes as a roll of long thin white paper. Mobile printer paper rolls are generally made from thermal-sensitive material coated with chemicals that help the image develop when exposed to intense heat.

Mobile printer paper is a type of thermal paper that is specifically designed for mobile printing. It is made from a heat-sensitive substrate material, usually coated with heat-sensitive dye, that can register inkless printing once exposed to a thermal print head. Mobile printer paper is typically used in combination with mobile printers, small and lightweight devices that can print from various sources. In addition, mobile printer paper is typically sold in rolls, allowing for efficient printing and cost savings.

The primary function of a paper roll is to provide customers with accurate transaction records. When customers use ATMs, they receive a printed receipt or other documentation detailing the transaction's details, including the date, time, amount withdrawn, type of account used, and any fees involved in the process. This allows customers to keep track of their transactions for accounting purposes. It also serves as proof of purchase in case of a dispute.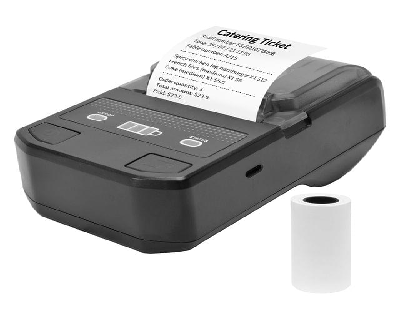 What are the different sizes for

Mobile Printing Paper?
Mobile printing paper comes in various sizes and shapes to meet your needs. Common mobile printer paper sizes include: –
–          2 1/4″ wide x 80′ long
–          3 1/8″ wide x 100′ long
–          3 1/8" wide x 120′ long
–          4″ wide x 100′ long
–          4.4″ wide x 120′ long.
–          8.5" wide x 100' long
Mobile printing paper size are available in .5″ and  3/4″ core sizes. If your mobile printer requires a thermal roll, you would need find out how long is printer paper to purchase the appropriate size for your device. Thermal rolls come in two standard lengths: 80 feet or 120 feet. Select the correct standard letter paper size and type for your mobile printer to ensure optimal performance.
Frequently Asked
Questions
Have Question? We're here to help
What is thermal mobile printing paper used for?
Thermal mobile printer paper is ideal for many types of printing, including receipts and tickets. In addition, this type of paper has a number of unique benefits that make it an optimal choice when seeking to maximize efficiency and quality.
What is the advantage of using mobile printer paper?
The main advantage of using thermal mobile printer paper is its longevity. Thermal printing uses heat to create images on paper rather than ink. This process ensures that the printed receipts and tickets can last for years without fading or smudging. Thermal printing also eliminates the need to replace cartridges, saving both time and money on supplies.
Contact
Us
We hope to have an opportunity to demonstrate our higher standards. Please feel free to contact us with a question or to receive a free quote. We look forward to hearing from you.