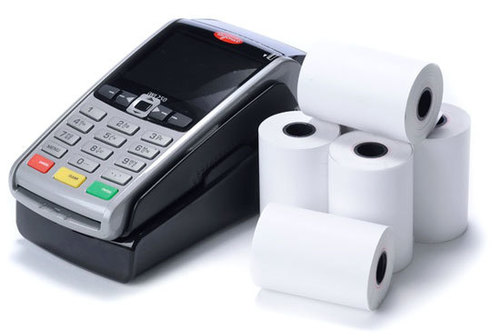 What is a

POS Paper Roll?
POS paper (Point of Sale Paper) is a special thermal paper roll used in most retail and commercial transactions. POS paper rolls are used to print receipts, confirm purchases, track sales, and more. POS thermal paper rolls come with a special coating that allows them to handle the heat generated by Thermal Printers without damaging or burning the paper. POS paper is very thin, and the ink from a thermal printer is pressed directly into the surface of the roll, creating an image without using any external heat or pressure.
When purchasing POS paper rolls, it is important to consider size, quality, and price. The most common widths are 2-1/4″ (57mm) in width and 3-1/8″ (80mm). It's also important to look for high-grade thermal paper that has been tested for longevity. Thermal paper fades over time, so you want to ensure you get a good quality paper that won't fade in less than a year.
What is a
POS Paper Roll

used for?

POS paper rolls, also known as Point of Sale thermal paper rolls, are primarily used in point-of-sale (POS) systems for various types of businesses and organizations. These special paper rolls are made from thermal-coated paper and are designed to provide clear prints with high definition. The POS thermal paper roll is usually fed through a receipt printer that uses heat technology to create images on the paper.

 The main use of POS paper rolls is to record transactions such as sales receipts and other business-related documents. For example, businesses can use these special printouts to keep track of inventory and customer purchases, while some industries may also require them for tax purposes or other compliance requirements. Additionally, they are utilized by many service providers, such as hotels, restaurants, and retail outlets.

 Aside from recording transactions, POS paper rolls are also used in many other applications, such as labeling and printing information on products, tickets, and forms. Thermal paper is also ideal for printing barcodes on products, as the heat-activated coating provides high durability and accuracy.

 

POS thermal paper rolls are highly versatile and provide businesses with a cost-effective way to manage their daily transactions and operations. 
What are the different

types of POS paper rolls?
POS paper rolls come in various sizes and types, depending on the system used. The most common type of POS paper roll is thermal paper, which uses heat to create images and text on the paper. Thermal paper can be made from two different materials: plain or coated.
Plain thermal paper has a smooth surface that does not require any additional coating. In contrast, the coated thermal paper has a rough texture that requires an additional layer of material for added protection.
Other POS paper rolls include bond paper, which is made from heavier materials and has a longer lifespan than thermal paper; receipt paper, which is designed specifically for receipts; and impact paper, which is used in certain types of printing applications.
It is important to note that the size of POS paper rolls varies by type and application. For example, thermal rolls are typically three inches wide but can be up to four inches wide. Likewise, bond rolls can be between three and eight inches in width, while receipt and impact papers are typically only two or three inches wide.
 No matter what type of POS paper roll you choose, it is important to ensure that it is compatible with your POS system and properly maintained to ensure optimal performance.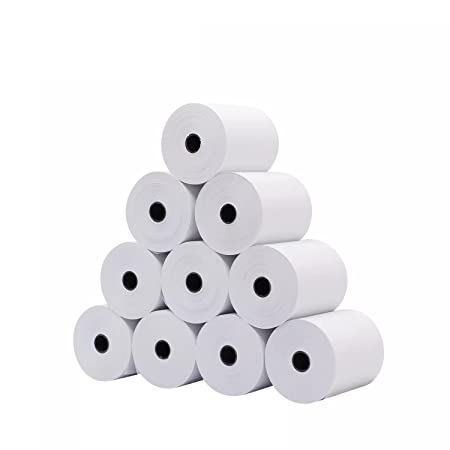 What are the
quality standards

used for POS papers?

When it comes to POS paper rolls, quality standards are in place for thermal paper and other types of POS papers. These standards ensure that the paper produces a clear printout and has lasting durability.

 The main quality standards used for POS papers include the following: –

 – Brightness: The brightness rating measures how reflective the paper is. A higher brightness rating will give brighter, easier-to-read prints.

 – Opacity: The opacity rating measures how much show-through or transparency the paper has. A higher opacity rating means less show-through and better print quality.

 – Smoothness: POS papers should have a smooth surface for optimal printing. This will ensure that the ink transfers properly onto the paper without smudging or blurring.

 – Gloss: The gloss level of POS papers determines their sheen in terms of brightness and clarity. Therefore, high-gloss POS papers produce clearer printouts than low-gloss papers.

 – Durability: Durable POS papers are important for lasting results that can withstand wear and tear from frequent use. Look for high-quality thermal paper resistant to fading and smudging from exposure to liquids, light, heat, and other elements.

 By following these quality standards for POS paper rolls, you can ensure that your paper produces clear prints with lasting durability. This will help you provide better customer service and maintain a professional appearance in retail or hospitality.
Frequently Asked
Questions
Have Question? We're here to help
What are the dimensions of a standard POS paper roll?
POS paper rolls are commonly used in thermal printers and typically come in three sizes: 80mm x 80mm and 57mm x 57mm. The most widely used size is the 80x80 POS Paper Roll. This roll has an outside diameter of 80 mm, an inside core diameter of 12.5 mm and a length of 80 mm. The 57x57 POS Paper Roll has an outside diameter of 60 mm, an inside core diameter of 12.5 mm and a length of 57 mm.
How do I choose the right paper roll for my POS system?
Choosing the right paper roll for your POS system is a critical step in ensuring that you're able to process your transactions accurately and efficiently. Three types of paper rolls are available: standard POS paper, POS thermal paper, and receipt rolls.
Contact
Us
We hope to have an opportunity to demonstrate our higher standards. Please feel free to contact us with a question or to receive a free quote. We look forward to hearing from you.