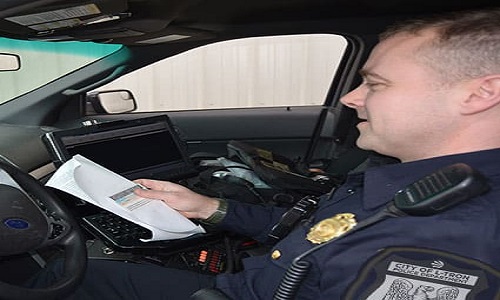 What is

law enforcement e-ticket paper?
Law enforcement e-ticket paper is a thermal paper roll used specifically for ticketing purposes in law enforcement. It is used with an e-ticket machine and allows officers to print tickets quickly and easily for violations. In addition, the paper is designed to be durable, allowing the ticket to stay legible over time, even if exposed to the elements. This ensures that law enforcement agencies have accurate records of offenses committed by individuals.
 E-ticket thermal paper rolls are available in various sizes and colors, depending on the type of printer they will be used with. In addition, certain types of e-ticket rolls also include watermarking capabilities, making it difficult to make any changes or alterations to a ticket after it has been printed. All these features work together to ensure that law enforcement agencies have reliable evidence when enforcing laws.
What are things to look for in
Law Enforcement e-ticket Papers?
When selecting law enforcement e-ticket paper, there are several important qualities to consider: –
1)- The e-ticket thermal paper should be made of a durable, durable material that will last through multiple handlings.
2)- It can also have good water resistance, which means it can withstand light rain or exposure to fluids without damage.
3)- Additionally, the paper should be designed with a clear print quality that makes scanning and reading information easy.
4)- Furthermore, the roll size should match the e ticket machine roll specifications to prevent any jamming or other issues.
5)- Finally, for extra security purposes, anti-fraud pattern background designs or barcodes may be included on the material, which helps reduce potential fraudulent use.
 Overall, these qualities should be kept in mind when selecting law enforcement e-ticket paper. A good quality e ticket thermal paper roll can ensure that tickets are printed clearly and accurately with minimal risk of fraud. It can also help reduce the chances of jamming or other technical difficulties when using e ticket machines. Therefore, you must ensure you purchase your E ticket thermal paper from a reliable and reputable manufacturer like Telemark Diversified Graphics.
What is a law enforcement e-ticket

paper used for?
Law enforcement e-ticket paper is a special type of thermal paper roll designed for use in e-ticket machines. It is designed to provide reliable, legible printouts of electronically generated tickets, citations and transfer documents that can be used by law enforcement personnel.
 E-tickets contain just the basic information law enforcement officers need to issue tickets or citations quickly and accurately. The information on an e-ticket includes the date and time, violation code, location, vehicle registration number (if applicable), violator's name and address (if applicable). They also feature a unique barcode which allows for automated ticket processing by law enforcement officials.
 E-tickets are printed on high-quality thermal paper rolls that are lightweight yet durable enough to withstand repeated handling. The thermal paper roll is designed to provide crisp, clear prints even after being exposed to hot temperatures or sunlight for extended periods. To extend the life of the paper, some e-ticket rolls feature additional coatings and protective films on their surface. Using these coatings and films helps protect the paper from fading, smudging, or bleeding.
 Hence, E-ticket paper is essential to law enforcement operations as it helps ensure tickets are issued quickly and accurately. For this reason, law enforcement agencies should always use high-quality e-ticket paper rolls to ensure that their tickets are legible and printed out correctly. If you need e-ticket paper rolls for your law enforcement agency, purchase them from a reliable source.
Frequently Asked
Questions
Have Question? We're here to help
What printers print law enforcement eTicket paper?
The Brother PocketJet is the most popular 8.5" wide printer used for traffic citations. These printers use the 8.5″ x 92′ Thermal Roll with a Perf and Sense Mark. Zebra, Brother, Printek, and other manufacturers also make smaller 4" wide printers for traffic and parking citations that use 4′ x 80′ Thermal Paper Rolls.
What are the different sizes of law enforcement eTicket paper?
Here are the most common e-ticket paper products used by law enforcement: -
1. 8.5" x 92' Thermal Roll with a Perf and Sense Mark every 11."
2. 8.5" x 100' Thermal Roll, Blank and without the Perfs
3. 4' x 80' Thermal Rolls, Blank.
Contact
Us
We hope to have an opportunity to demonstrate our higher standards. Please feel free to contact us with a question or to receive a free quote. We look forward to hearing from you.