Higher Standard Mobile Printing Rolls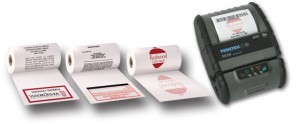 Even rugged mobile printers can become delicate devices when dealing with sub-standard paper rolls. That's why it's so important to pick a supplier that you can trust to deliver a high quality product, and back it up with service and product expertise.
At TDG, we're committed to supplying superior service, product expertise, and outstanding paper quality at a competitive price. With us, you can trust that you're getting the right product for your machine, and that the paper will print clean without tearing or getting jammed.
We can also help your or your customers create new revenue streams through our cost-effective custom printed advertising programs.
We service all business segments, including, Beverage, Food, Utilities, Parts Supplies, Water/Coffee, Insurance Claims, Rental Car, Propane/Fuel Delivery, Chemical supply, Pest Inspection, Lawn Care, and more.
And our Mobile Printing Rolls come with:
Premium production quality with up to 8 colors
Advanced security features to prevent fraud
Free warehousing
Quick turnarounds on any order size
Rolls and fan-folded formats
Dust-free and splice-free paper rolls
We believe that customers should raise the expectations they place on their Mobile Printing Paper suppliers, and hold them to a higher standard. A higher standard of service, quality, and expertise.
Because, with us, you get more than you expect.
Request More Information
Our thermal paper products are held to a higher standard. Whether you need ATM Paper, Parking Tickets, Mobile Printer Rolls, POS Paper, or Kiosk Paper, you'll get more than you expect.