Law Enforcement eTicket Paper
Higher Standard Law Enforcement eTicket & eCitation Paper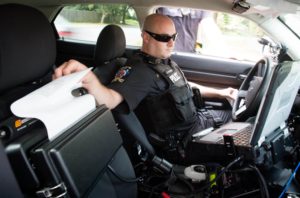 At TDG, we supply the industry's most affordable and durable printing paper for traffic tickets and citations. Our top quality paper rolls are compatible with all printer types, both in-vehicle and on-the-go. And we can satisfy all of your various product needs, including:
Citations • Accident reports • Summons • Warrants • Warnings • Parking violations • Driver information exchanges • Receipts • Evidence labels • Office tags • And more
No matter what brand eTicket or eCitation printer you are using, we will ensure that you receive the best possible paper for your particular machine, saving you from costly and time-consuming paper jams, ink smudges, and tears. Most of our orders are for Brother brand products, including the PocketJet in-vehicle series and RuggedJet mobile devices.

Contact Us now to receive a timely quote on paper orders of any size. Or download our FREE Dealer Only Pricing App from one of the following app stores for instant quotes.
We believe that customers should raise the expectations they place on their Law Enforcement Paper suppliers, and hold them to a higher standard. A higher standard of service, quality, and expertise.
At TDG, you can expect more, because you get more.
Request More Information
Our thermal paper products are held to a higher standard. Whether you need ATM Paper, Parking Tickets, Mobile Printer Rolls, POS Paper, or Kiosk Paper, you'll get more than you expect.