Law Enforcement eTicket Paper
Higher Standard Law Enforcement eTicket & eCitation Paper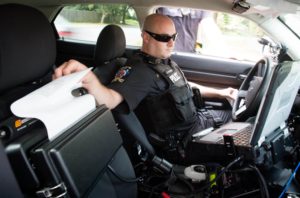 At TDG, we supply the industry's most affordable and durable printing paper for traffic tickets and citations. Our top quality paper rolls are compatible with all printer types, both in-vehicle and on-the-go. And we can satisfy all of your various product needs, including:
Citations • Accident reports • Summons • Warrants • Warnings • Parking violations • Driver information exchanges • Receipts • Evidence labels • Office tags • And more
Where to mount the eTicket printer in a police car?
The eTicket printer allows police officers to quickly print eTickets or information, but it has to be mounted in the patrol car alongside other tools. The driver has to have easy access to the laptop, police radio, light & siren controls, patrol rifle or shotgun or other items. The mobile printer shouldn't block access to the radio or light/siren switches.
At the same time, the eTicket printer has to be securely mounted so it doesn't become the cause of injury in a car accident. Several companies make secure mounts so that the printer is within arms reach from the driver position.
In the picture above, the officer can easily reach the printer in a passenger seat mount. Some departments choose a headrest mount for their mobile printers. In this video we see a Brother Pocket Jet is mounted above the pass through window to the rear seat passenger area.

No matter what brand eTicket or eCitation printer you are using, we will ensure that you receive the best possible paper for your particular machine, saving you from costly and time-consuming paper jams, ink smudges, and tears. Most of our orders are for Brother brand products, including the PocketJet in-vehicle series and RuggedJet mobile devices.

Contact Us now to receive a timely quote on paper orders of any size. Or download our FREE Dealer Only Pricing App from one of the following app stores for instant quotes.
We believe that customers should raise the expectations they place on their Law Enforcement Paper suppliers, and hold them to a higher standard. A higher standard of service, quality, and expertise.
At TDG, you can expect more, because you get more.
Request More Information
Our thermal paper products are held to a higher standard. Whether you need ATM Paper, Parking Tickets, Mobile Printer Rolls, POS Paper, or Kiosk Paper, you'll get more than you expect.