Higher Standard ATM Paper
We've been servicing distributors with the industry's best ATM receipt paper for over 30 years. But, quality ATM paper that's competitively priced is just the cost of entry. With TDG, you get so much more.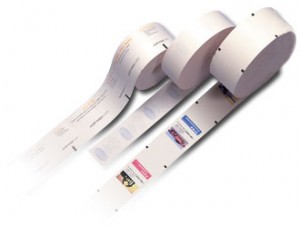 Such as,
A devoted staff of service professionals whose mission is make your job easier
Unrivaled experience and product expertise, which allows us to anticipate problems and avoid potential issues
Unsurpassed production quality and attention to detail
99.9% order accuracy and timely delivery
And our superior printing capabilities and strict quality standards ensure that your customers will receive the greatest value in ATM receipt paper, along with our other financial paper products, including:
ATM audit rolls
Teller Receipt rolls
Bank statements – Jumbo Rolls
Custom coin wraps
We also help create additional revenue streams through innovative custom printing solutinos that allow for customers to advertise on the back of ATM receipts, making your ATM paper more profitable. Watch this video to learn how to use your receipts to cross promote other products.
We believe that customers should raise the expectations they place on their ATM Paper suppliers, and hold them to a higher standard. A higher standard of service, quality, and expertise.
Because, with us, you get more than you expect.
Request More Information
Our thermal paper products are held to a higher standard. Whether you need ATM Paper, Parking Tickets, Mobile Printer Rolls, POS Paper, or Kiosk Paper, you'll get more than you expect.